Eden Director Andy Payne attended the Wildix UCC Summit in Barcelona last month where lots of announcements were made both about the future of Unified Communications and the new products to be added to an already impressive portfolio.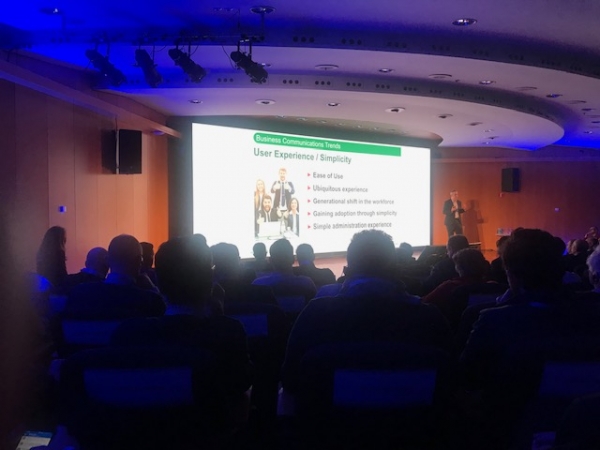 We've put together an overview of the key points and messages from the Wildix UCC Summit which we think will be useful to you as an end user either if you are thinking of purchasing a new Hosted Telephony System or if you are already a Wildix user.
The overall message from Wildix was clear. Telephony vendors are dying. Wildix truly believe that their technology is the future of Telecommunications as we know it. And we agree!
The fact that Wildix have built their service from scratch and the technology is different from the main vendors in the Telephony market is a key factor for Wildix. As vendors continue to 'buy-up' other vendors and products, Wildix build their portfolio and product set based on the requests and recommendations from their partners and end users.
"No one wants a PBX. They want the outcome of a PBX!" No-one wakes up one morning and says 'I think I want to buy a new PBX today. They want something that is 'fit for purpose'.
And of course that's true everyone just wants a phone system that helps their business to function in the best way possible now and in the future.
On day one of the UCC summit Wildix launched an array of new products.
First up was the 'Welcome Console'. This is an updated WP480G Desk Phone paired with the WP490EXT Extension module out of the box. It allows the user to control up to 60 extensions from the console. List price £331.00. The main update on this phone is no paper inserts for the extension keys. This got rapturous applause and cheers!
Next up was the ground-breaking WAIR-MED DECT Handset. Designed specifically for the Healthcare sector (but easily a good option for other sectors) the device comes fully IP65 rated, fully waterproof, ruggedized with an antibacterial coating, with the ability to be sterilized. Recent tests on handsets (desk based and mobile) in the healthcare sector showed worrying results on cleanliness and germ-spreading. With a list price of £351.00, Wildix expect this product to be very popular.
The launch of 'Wildix Classound' was greeted with applause. This is their SIP offering, allowing partners to order and configure trunks directly from Wildix and will include bundled minutes. SIP's will be present in 133 countries and all calls will carry full encryption.
The Wildix Day Saver is a new product that will replace the W501GSM. Listed at £310.00, this can be seen as a backup option for customers. It is an LTE gateway. It has two antennas, one for data connections, another one for calls and SMS. It can be used as a backup for Cloud PBX, as a backup for the cable Internet connection, or, even as the only Internet access for small offices or during events. In case the Internet goes down, DaySaver switches to LTE and uses the cellular data. DaySaver also supports inbound and outbound SMS (coming soon).
Wildix are aiming their new 'Supervision' desk phone at the Executives of the end users. The 'Ultimate Executive Tool' is an upgraded version of the Vision display phone. It comes with an 8" screen, 5MP removable Webcam and a new aluminium look, among other features. Priced at £895.00 list, this is certainly something for your executive level user.
The final hardware related product to make its debut was 'WIZYCONF'. Ignoring the name, this is Wildix's 'Magic' solution to boardroom Video Conferencing. Generally, Conference Systems are a problem. Usability is poor, training is often non-existent, cables take over a smart meeting room, attempts to make a conference call are often cancelled in favour of a speaker-phone call, and money is wasted. Wildix claim they have the first professional easy-to-use web conference solution.
Built with simplicity in mind on Chrome OS and WebRTC, the WIZYCONF offers all members of a conference call screen sharing and voice recognition. Up to 3 x 65" HD screens can be connected. Out of the box come two cameras – both highly specified. One PTZ Camera and one 120-degree Wide Angle Camera. There are also two professional microphones, with the option to add a further two if required. Two microphones are more than enough for the vast majority of meeting/board rooms.
This is all powered by a small Intel Core i7 unit that will sit quietly and unnoticed around or behind your display. All kit comes in a slick black and gold, is powered over Ethernet (cutting down on cabling) and carries the standard Wildix 5 Year Warranty. All this is controlled from one single Remote Control and configurable within 30 seconds.
As Wildix always say, if it isn't easy to use, they don't implement it into their portfolio, so who is to doubt their claims for the WIZYCONF!
Now comes the list price….. £5171.00 plus £56.00 per month subscription.
So, with all the new hardware launched, announcements moved on to software. The big announcement was the release of WMS4.0, the new 64-bit Wildix platform. A much-needed step away from 32-bit allows a maximum of 250,000 users on one system (WMS3 was limited to 10,000), allows best audio quality to be automatic, offers real time changing and boasts Zero File System Failure. Two other features that have been added on the back of partner requests are the ability to call directly from Kite and for User Licenses to be set directly to certain users.
Not stopping there, WMS4.0 also includes integration to popular CRM systems Zoho (used by over 45 million users worldwide) and Infusionsoft.
Firefox Integration is launched to combat those users that have no access to Chrome OS. Integration to Active Directory was also a popular announcement in the auditorium.
Reliability has been improved and the option and ability to recover via USB is a nice addition.
Automatic Call Distribution has been addressed. Users can sign in and out of groups from Handsets.
If we need to question if WMS4.0 will 'work' at this early stage, we need to look no further than Vitrociset in Italy. This is the largest implementation of Wildix to date, with over 40,000 connections spread over 500 sites. The system was deployed on the new platform and was installed in a 6 month timeframe.
Moving on from the WMS4.0 release, there is also a new mobile App available. The new features in the updated App include an Anti-Firewall block, BLF Tab and the ability to control the W-AIR Dect headset.
And finally…. Mobile First…. The first Mobile Watch App from Wildix! Also downloadable from App Stores.
One session gave another overview of the new released products. In addition to the list of updates in WMS4.0 previously mentioned were options added to the ACL (Access Control List). There is an option to prohibit a user from making international calls and also an option to use Voicemail with or without a pin code.
A new feature allows you to decide whether to delete or keep user data when deleting a user from the system. Previously, all data was lost if the user was deleted.
And the final update on WMS4.0 was Voicemail forwarding. Any voicemail can be forwarded onto single or multiple extensions from the handset, allowing a VM to be shared and listened to by other users.
As you will see there are lots of new products and features to get excited about and we are proud to be one of the Wildix Resellers.
If you would like to discuss your Hosted Telephony requirements or would like to see a demo of the Wildix system click here