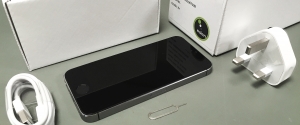 Eden now supply a range of quality pre-owned and refurbished devices including smartphones, tablets, iMacs, desktops, network equipment and servers. We are assisting a growing number of UK businesses to enjoy huge savings on their IT equipment.
A slowdown in smartphone advancements has brought increasd attention to the refurbishment market as businesses opt for reduced cost handsets and SIM only plans for their workforce. It is a great way to renew IT equipment in a cost effective manner. Our team are happy to discuss your requirements and offer their advice as to whether "refurbs" fit your organisations plans and budgets.
Our refurbishment service sees pre-owned devices professionally cleaned, reset and refurbished using new parts and all handsets pass a meticulous 27 point test prior to being approved for resale. We offer a 28 day returns policy as standard with every device.
Contact our Sales department on 0113 8921115 (option 1) or email sales@justaskeden.co.uk for stock information and any requirements you have that aren't listed.

Or contact your account manager directly on the same number or their direct email address.
GRADE GUIDE
Obviously, refurbished devices show some signs of use so we grade each device using the following guidelines:
Grade A+: Excellent condition and look as good as new. There will be no marks, blemishes, scuffs or scratches on the housing, bezel or display.
Grade A: Very good condition with very light scuffs or minor marks if any.
Grade B: Good condition but will show signs of general use with light marks on rear case, bezel or display but will have no major damage.
Grade C: Will show signs of heavier use with heavier marks but will not affect the workings of the device. Display assembly will be in good condition with no cracks.
WE ALSO BUY OLD IT KIT
Turn your used IT equipment into new money.
Eden provide a market based evaluation for the IT assets you want to sell. We can offer cashback or refinancing for newer equipment. Our service includes:
Central planning and organisation of the collection of assets
Secure transport available if required
Quick market based payment
Complete documentation of the data erasure
Free disposal of any equipment with no market value
Refurbishment or disposal in house at Eden
UPGRADE
Eden also offer upgrades to your desktop infrastructure. Installing addition memory, a new operating system and a new SSD drive can potentially increase the life of your current PCs and laptops. Call your account manager or our Sales team for more information.
EXTENDED WARRANTIES
All our refurbished iPhones, iPads and range of the mobiles come with a standard 28 day warranty and we offer our customers a choice of upgrades which are only available at the time of purchase. Your peace of mind is important to us so we offer the following packages to suit your needs.
Upgrade your 28 day warranty to 3 months for a one off fee of £25
Upgrade your 28 day warranty to a one year warranty for a one off fee of £50
Protect your device with an Accidental Damage Repair Package for an additional £30*
*Repair Pack covers one screen, port, battery or button replacement or water damage treatment. (While we have a high success rate with water damaged devices this treatment cannot be guaranteed to be successful) Price quoted is for iPhone 5, 5C, 5S and iPhone 6. Please enquire for pricing for iPhone 6 Plus, iPhone 6S, newer models and other manufacturers. Repairs will be conducted internally by Eden Repair Centre.