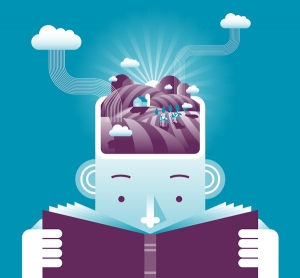 Cloud Services are set to account for half of software, server and storage spending growth and generate ¾ of data centre traffic. . Cloud Services spending reached $56 billion in 2014 and will swell to $127 billion by 2018, according to industry specialists.
A new Technology Access Program from Hewlett Packard named 'HP Subscriptions' is allowing Educations sites, SMB and large corporate entities to access latest technology with one low monthly cost. A simple 'cost per' workstation' model helps reduce capital expenditure and moves organisations to a more manageable operating expense model with the added option of a replacement refresh cycle every two to three years. For some more information and some figures please email ask@justaskeden.co.uk or call 0113 892 1115.
Apple reported sales of 34,000 devices per hour in Q4 2014, which closed the gap on Android as the UK most popular Operating System to just 8.5%. Android still has a share of 50.5% of the market. The iPhone 6 was the most popular handset of the quarter, with 20% of all sales. The Samsung Galaxy S5 was second with 8%. Windows Phone was surprisingly down 3% from the previous quarter to 6.6% of the market.
40% of companies say that cost reduction is the main reason they are investing in 'software-as-a-service' and other cloud services. Security is still a worry for 46% of people surveyed, with private clouds being more popular than external hosted services.
Microsoft has removed the Storage limits in OneDrive for Office 365 users. This makes the new productivity suite more attractive for SMBs and individual workers who want to ensure they can always have access to their data. The previous limit was 1TB and the new unlimited storage will be rolled out to all subscribers over the coming months.
Eden are soon to be launching a new partnership with VODAFONE to provide Cloud and Datacentre solutions to the SMB and Large Corporate markets. Many organisations will not be aware of the services and cost-effectiveness of working with Vodafone. Packages tailored to suit budgets and specific requirements from UK based Datacentres. Watch this space or request some more information now by emailing andy@justaskeden.co.uk or calling 0113 892 1115.
JULY 14th 2015 – This is the date when Windows Server 2003 is officially retired. It has had a very good innings, lasting 12 years in a time where technology has moved on like never before! Contact Eden today to look at how replacing the Hardware and Software running your business can make a significant difference to your productivity.
Recent research has shown that the average lifespan of a Mobile Handset is just 15 months. When you consider that the average contract lasts 24 months this can be a major headache for end users and corporate customers. Eden has seen a substantial growth in the requests for Repairs for Smartphones and Tablets, leading to more resource being needed in our Repair Centre. Please visit www.edenmobilephonerepairs.co.uk for options on how you can extend the life of your device and protect it thereafter with suitable accessories.
Microsoft announced recently that it will be FREE to upgrade to Windows 10. Who doesn't like the sound of that! But before you get too excited we need to check the small print... This is the case for the consumers out there but it's a different story for Enterprise customers. Microsoft has confirmed that Windows 7 Enterprise and Windows 8/8.1 Enterprise are not versions that will be eligible for a free upgrade. For more information please contact our Sales Department.