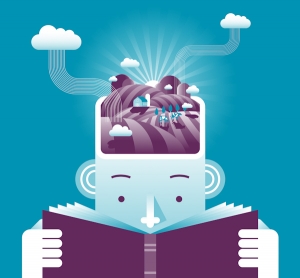 115 Billion – the number of Dollars spent on Smartphones globally in Q4 of 2014. This is an increase of 20% from the previous year.
346 Million – the number of Smartphone units sold in the same period. Western European sales were up 14% in Q4 to just over 40 million units.
IT budgets are expected to increase by 1.4% in 2015. More than 21% of IT investment actually takes place outside the official IT budget. Many organisations are emerging from a period of cost-cutting and budget restriction and thee is a renewed focus on strategic investments that enable business growth. Speak with Eden regarding your plans for investment in technology in 2015 and beyond.
More than half of mobile users use less than 50% of data they receive as part of their mobile plans. 4G Users are the biggest victims, with 22% of those with bundles between 500mb and 1GB not reaching their data limit. When this is paired with the over-specification of bundles of minutes and texts, there are major savings of up to £200 per year per user. Contact Eden to consolidate your bills and reduce your costs today.
More than 40% of organisations expect the Internet of Things to transform their business through cost-saving or new revenue streams. This figure is predicted to rise to 60% over 5 years. Even though these figures show the future is bright for IoT, most organisations have no technical or business leadership established. Click HERE to find out more about how your organisation can benefit from early adoption of IoT.
HTC are set to release the latest version of their flagship handset – the HTC One (M9). Last year's One (M8) was recently voted 'Smartphone of the Year' at a recognised Mobile Awards night and although all reviews have been positive, it failed to make a significant impact in the UK. Market share grew by just over 1% to 5.6% but fell short of the target of 10% that HTC sought after. The latest release is set to be a 'make or break' handset for the Taiwanese company but is certainly worth a look at! Eden Director Richard Kennedy is an avid fan of the M8, commenting 'The handset does all that I need and more! It is more sturdy than the Samsung and Apple products I have used, expandable memory and a great design. Dare I say, I will probably never use an iPhone again!'
Toll Fraud is increasing in the UK. The estimated cost to the UK is a staggering £1.2billion and we are the third most targeted country. Over 80% of phone systems are said to be at risk of external 'hackers' making long distance or Premium Number calls and there is an estimated growth of 15% this year. Make sure you are fully secure. Just Ask Eden if you would like s free audit of your current phone solution and billing.