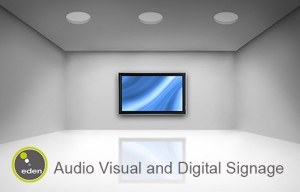 Are you looking for new and innovative ways to attract and engage with staff, customers, visitors or students?
Investing in visual communications is an increasingly popular choice for modern businesses and educational institutes. The range of rewards you and your clients receive from audio visual systems, digital signage or video conferencing is vast. As a leading provider of audio visual installation technologies, we oversee many innovative applications of this equipment which help push our clients to the forefront of their fields.
Here we look at how, when implemented correctly, audio visual systems can benefit your organisation.
Enhance client satisfaction
The benefits you receive from AV equipment are ultimately going to have a positive impact on your clients. With visual communications in place, important decisions can be made much quicker while projects, ideas and progress can be shared with your clients in real time from anywhere across the globe, resulting in fast, efficient services.
Stand out from the crowd
Technology plays a huge role in everyday life, finding new and exciting ways to display your products is a great way to attract attention from would be customers. Many businesses are moving towards digital signage as it helps make marketing content both innovative and engaging.
Full design, installation, configuration and training services are available from Eden making your project run smoothly from beginning to handover. Contact us today to discuss your requirements!
Boost productivity
Introducing innovative systems and modern technology is a proven way of inspiring employees. The ability to quickly display important information, messages or sales targets ensures efficient communications with your team resulting in a motivated, driven workforce.
Improve training facilities
Using multi-sensory training is a proven way of making information stick in the mind. A combination of sound and vision can increase engagement with training material and help embed vital information while ensuring your training program is enjoyable and efficient.
Strengthen teamwork
Bringing members of your team together is quick and easy with video conferencing. Staff worldwide can connect "face to face" with the rest of your workforce instantly while maintaining a personal presence within the meeting room.
Save considerable time and money
Video conferencing quickly saves time and money due to reduced travel requirements. This increase in efficiency ensures you and your workforce can complete vital tasks faster than ever...without costly downtime between meetings.
Go Green
Reducing the carbon footprint of any business is important. Using modern technologies helps reduce travel requirements and allows you to run your company in an environmentally friendly manner.
HOW CAN EDEN HELP?
Eden partner with the major UK distributors to deliver the latest technologies from many of the largest Audio Visual product vendors across the globe. Brands such as Samsung, Epson, SMART, Promethean, OneLAN, Panasonic, Encoded Media, Sanyo and many more, can be delivered on a next day service.
If you wish to find out more or require help and advise please dont hesitate to get in touch.
Tel: 0800 118 5060
email: contact@justaskeden.co.uk