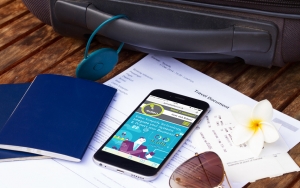 "The voice of Europeans has been heard". European Commission vice president Andrus Ansip
Planning a European business trip or holiday? Well if you weren't aware, all mobile roaming charges have been scrapped by the European Union, meaning that people can make full use of their mobile devices throughout the EU without the headache of racking up expensive bills…but unfortunately this doesn't come into effect until mid June 2017!
The current pricing structure however does change in April this year when travellers and holiday makers can enjoy reduced roaming charges throughout the EU, with operators only allowed to mark up their domestic prices by up to 3p (0.05 euro) per minute for calls made, 1p (0.02 euro) per SMS sent, and 3p (0.05 euro) per MB of data used, excluding VAT.
The Vice President of the European Commission had this to say, "As from mid-June 2017, Europeans will pay the same price to use their mobile devices when travelling in the EU as they do at home. And they will already pay less as from April 2016.
"This is not only about money, this is about bringing down barriers in the Digital Single Market. Today's achievement is a first step towards a Telecoms Single Market."
If you need advice on renewing your business mobile deals, just ask Eden. We can give you an in-depth analysis of your current usage and tailor a plan that best suits your business needs. Get in touch on 0113 892 1115 or contact us via email.