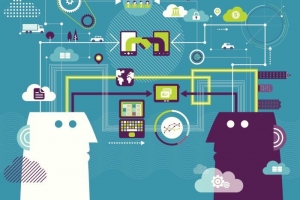 One of the biggest growth areas in the technology arena throughout 2015 and beyond will be Video Conferencing and the opportunity for all organisations to utilise Video-As-A-Service (VaaS).
Hosted Video from Eden provides small to medium sized businesses with the power of video conferencing without the need to invest in expensive boardroom equipment, conference bridges and routers - it is simply delivered from the cloud.
Hosted Video enables you to transform the way you communicate with colleagues, customers and suppliers making video conferencing as easy and as cost effective as voice conferencing. You simply connect to your private Hosted Video Conference room from your Smartphone, Tablet or Desktop PC.
VIRTUAL VIDEO CONFERENCING
Hosted Video provides you with always ready virtual video meeting rooms where you can meet with colleagues, customers and suppliers for productive face-to-face meetings.
EASY MEETING SET-UP
Video meetings can be established now or scheduled in advance through a simple click of the mouse with invitations and links to your private video meeting room sent by email.
MOBILE & DESKTOP CONNECTIVITY
Anyone invited can join your video conference with an intuitive App on their smartphone or tablet, or using the provided unique URL to connect via a browser from any device, in any location.
PAY-AS-YOU-USE
With Hosted Video from Eden there is no capital expenditure, video is provided as a hosted service with a range of cost effective monthly subscriptions to meet your needs. Pricing starts from as little as £35.00 per month.
We are arranging a number of public and one-to-one Webinars to show the full functionality of the product which only shows its true value and opportunity when demonstrated.
There is also the option to get a 30 day free trial upon request.
To register your interest please CLICK HERE.