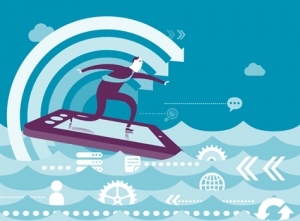 Small to Medium businesses now have more opportunity to apply for grants of up to £3000 for the installation of superfast connectivity.
The scheme is available across 'superconnected' cities in the UK and has now extended into new areas.
On 3 December, the Chancellor announced that the Government will make up to £40m available from April 2015 to March 2016 to support more cities who want to administer The Broadband Connection Voucher Scheme.
How does it work?
Grants of up to £3,000 (minimum Grant is £250.00) are available to cover the capital and equipment costs of upgrading your broadband connection. You pay the VAT charged and the monthly line rental to your service provider. The monthly costs vary by provider and package, but a quarter of businesses pay £40 per month or less.
What connectivity is available to me?
Eden can deliver a range of services including a single Broadband connection, cost effective 'Ethernet First Mile' (EFM) options and wired or wireless leased line solutions. We will work for you to find out if you are in an eligible area and provide a quote on the service you require to meet the budget that you have. From there, we will provide all the support and information you require to apply for the Connectivity Voucher.
Who is eligible to apply?
Broadband Connection Vouchers are available to Small or Medium Enterprises (SMEs) if:
Your business is within an eligible area one of the 22 cities taking part in the scheme. Ask Eden to check your postcode to find out if you're eligible
You are an SME, registered charity, social enterprise or sole trader
Installation of your new broadband connection will cost over £100
The connection is for your business premises. You can apply for a connection at home if this is your main work base, but this does not apply if you work from home occasionally
You are willing to sign up to a minimum 6 month contract with your broadband supplier
The broadband service you select delivers a speed or performance improvement on your current connection. There are some detailed requirements on speed that you should check before applying
You have not received more than around £120,000 in grants in the last 3 years
What can the connection vouchers be used for?
Eden can deliver wired or wireless leased line solutions. The key point to be eligible is that the new connection must deliver a step change in your connectivity. Your business grade connection must have both of the following characteristics:
offer a minimum of 20Mbps service to your premises now and be capable of being upgraded in the future to support at least 30Mbps service to your premises
deliver at least a doubling of speeds when compared to your current business grade connection. For example you must be able to go from 20Mbps to 40Mbps, 30Mbps to 60Mbps or 40Mbps to 80Mbps.
What happens now?
Just Ask Eden!! Once we find out if you are in an eligible area we will provide a quote on the service you require. We will then give you instructions to apply for the Voucher through your local council's website. Once your quote has been approved you will have 28 days to place your order with Eden. Once the connection is made you will need to make your claim and send your Eden invoice to your local council. You will then receive a letter to say how much grant you have received. Eden will help you with these steps wherever required.
Do you want to know more about the scheme?
You can contact Eden on 0113 892 1115 or ask@justaskeden.co.uk.
You can also CLICK HERE to start your journey to faster connectivity with Eden.